'Making Ground @ Embassy Gallery, Edinburgh'

The Skinny, 11th March 2019
Written by: Adam Benmakhlouf
Available to read:
︎ HERE ︎
[IMAGE DESCRIPTION: Square black box tv sat on the floor in the corner of a light grey room on light grey floor boards (matching). On the screen is some kind of square image with yellows, greens, purples, blacks and browns. The image is very over exposed, at parts blowing out.]
"
Also making an oblique approach towards the effects of colonialism, Zoë Zo, Zoë Tumika & Zoë Guthrie's videowork Part 1: The Dinner is mainly a fish eye recording of an informal dinner at a kitchen table. Warmth and solidarity is represented, at the same time as the silence of the video restates the importance of Black-only spaces of discussion, socialising and sharing. Continuing celebration of colonialism is brought to attention when the video cuts to a video of the Glasgow streets named after colonised territories and merchants, and the image of a young Black person held on a thin leash. There's a subtle line of reasoning between the protective muting of the conversation and the light allusion to continuing colonial violence and subjugation.


"

---
'Betraying Expectations: ECA Degree Show 2018'

The Skinny, 1st June 2018
Written by: Adam Benmakhlouf
Available to read:
︎ HERE ︎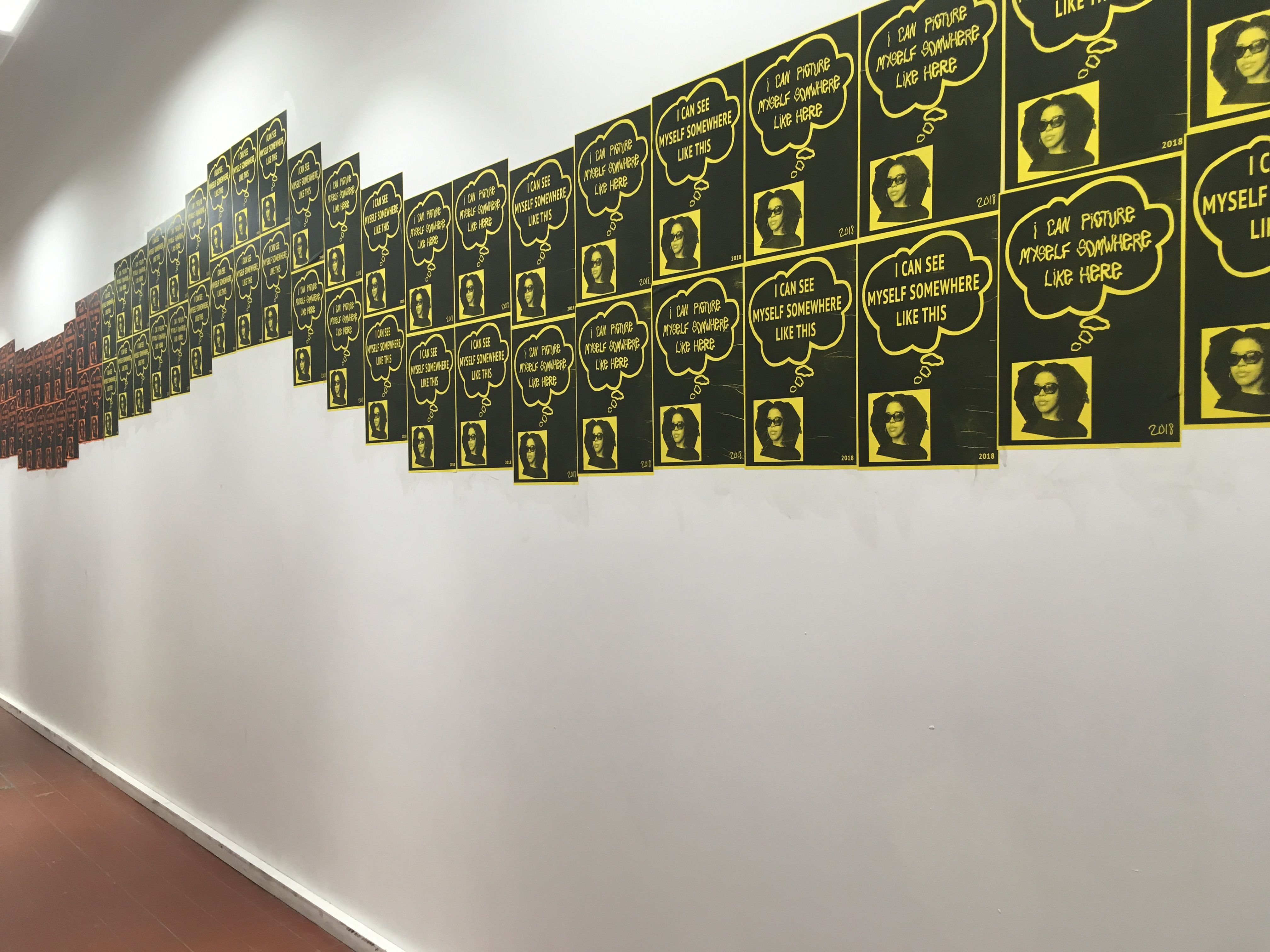 "
One of the most effective and economic gestures in the show – and another point of interaction between one student's work and, in this instance, the entire degree show event – are the posters of Zoë Zo, Zoë Guthrie and Zoë Tumika. Rather than taking up the floorspace or any formal room in the degree show, the artist has chosen to paste a group of posters on the wall. One reads, "I can picture myself somewhere like this". Enough posters to be visible and in bright enough colours to catch our attention, this work is otherwise reduced beyond the minimum of the bulk that's expected of degree show presentation. It's a stunning betrayal and refusal of the degree show, which Zoë Zo, Zoë Guthrie and Zoë Tumika deploys to protest the experience of being at art school and not being able to circulate with the comfort of white, straight and middle-class privileges that dominate all aspects of the art school experience. It's a necessary and timely interruption of the degree show event and gestures to the creativity, struggle and courage of the students who apply, receive a place and even graduate without ever being let into the institution. "I can see myself somewhere like this," the poster reads.


"

---